Tesla hacker and Twitter user @greentheonly speculated that it will not be possible to retrofit Teslas current MCU 2 (Media Control Unit) using Intel chips with the new and improved Ryzen processor used in MCU 3.
Upon close inspection of the internals of a new Model Y, Green said "retrofitting Intel cars definitely seems impossible – totally different horsepower and other unit beams and thicknesses."
The news has not been confirmed or denied by Tesla or its CEO, Elon Musk, but if true, it would most certainly disappoint many MCU2 vehicle owners, who expected to be offered the opportunity. an upgrade, in the same way current MCU1 owners can upgrade their chips for a fee of $2,000 (plus tax).
MCU (Media Control Unit) is the computer controlling Tesla's touch screen, processors, RAM (short term memory), nonvolatile memory (long term memory), audio subsystem, 5 amplifiers, WiFi, Cellular, Bluetooth, GPS, Ethernet bridge, several CAN bus communications, LIN bus, USB ports and many more.
It handles all software operations except for full self-driving/autopilot, which are unaffected by the version of MCU a Tesla is equipped with. All Teslas built after November 2016 are capable of fully autonomous driving.
MCU2 was released in Spring 2018 (Fall 2017 for Model 3) as an upgrade to the NVIDIA Tegra 3 processor present in MCU1. All cars delivered after this date benefited from the improved responsiveness and additional features that come with the Intel Atom E8000 Series processor.
From a technical point of view, the two chips had completely different architectures. The release of the V10 software update highlighted the differences, as MCU1 owners were locked out of both Tesla Theater and Tesla Arcade. This is because MCU1 does not support Netflix, Hulu, YouTube or any other streaming services that may be added in the future. It also does not support any of the games added by Tesla. Moreover, the web browser on MCU2 is much faster and more capable as it is built on Google's Chromium platform.
In the summer of 2021, Tesla launched the redesigned Model S with a more powerful infotainment processor MCU. At the time, no one knew if this was Tesla's next-gen MCU or if it would carry over to other models.
Then, at the end of 2021, the first news of a new generation of Tesla MCU chips began to flood the web, with reports from China that a new AMD Ryzen-based computer was present in newly shipped Model Ys.
The new MCU is faster and brings noticeable improvements in responsiveness in the web browser, as well as when using video streaming services, such as Netflix and YouTube.
By Gabe Rodriguez Morrison
It looks like the new Model 3 and Model Y will soon get a secondary screen. In a recent tweet from @greentheonlynewer Model 3 and Model Y models with AMD processors have been discovered to have second-screen capabilities.
The connectors on the circuit board of the AMD-powered Model 3/Y indicate that it has a connector to power a "2nd display". It is possible that the second screen is at the rear of the car like the new Model S and Model X.
The new Model 3 and Model Y vehicles have a circuit board similar to the Model S and Model X, but they're not identical, so it's not just Tesla sharing parts between the two cars and leaving the 2nd display port remains unused.
According to Green, a similar situation has occurred before, where the Model Y PCB had unused USB3 ports which were later populated in later revisions.
It's possible that Tesla will add a rear display to the Model 3 and Model Y as it becomes a big selling point for Tesla.
The rear display gives you convenient features such as the ability to turn on the rear seat heating and adjust the cabin temperature. It also lets you manage in-vehicle music as well as some additional entertainment options like playing games and streaming movies from Netflix, Disney+ and more.
And while games and movies on the vehicle's main screen can only be used while parked, on the rear screen your passengers are invited to watch movies on the way to their destination.
This is a neat feature and would actually cost Tesla little to add since the 8″ display is powered by the same hardware as the center display.
Alternatively, it is possible, but unlikely, that the second connector will be used for an instrument cluster display including speedometer, temperature, GPS and battery information behind the steering wheel.
Looks like the 3/Y model will soon have a second screen?
Just had a closer look at an AMD based Model 3/y car thanks to enterprising folks
And there are two unpopulated connectors near the display, one of them is marked "2nd display".
EPC filled it in – looks like s/x pic.twitter.com/99ESydFShV

— green (@greentheonly) April 16, 2022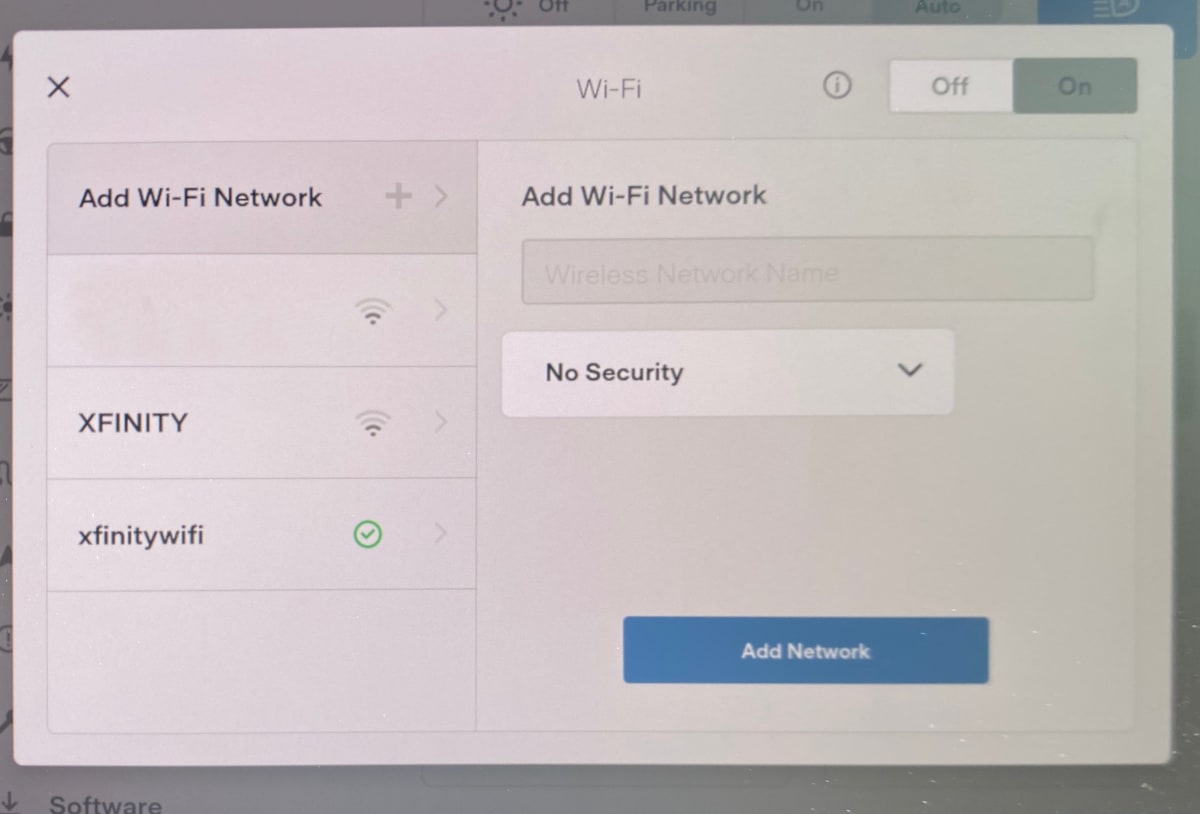 Tesla has reportedly started testing a new feature for its fleet: the ability to connect to Wi-Fi networks provided by ISPs.
Connectivity is an integral part of the Tesla experience, allowing vehicles to periodically receive software and navigation updates, access entertainment options, as well as allowing the company to receive valuable data collection of the fleet, used to improve features such as the autopilot.
Although Tesla initially provided free internet, as the fleet grew the company began to require a new Premium Connectivity plan that paid for a monthly subscription to access some of the most data-intensive services. data, such as streaming music and video. Tesla owners have had to choose whether they want to pay $10 a month for premium connectivity ever since.
Whether or not you pay for Premium connectivity, almost every feature is available over Wi-Fi for free.
The automaker has also continued to research alternative solutions for its customers, including a recent software update that allows owners to use their phones as hotspots while driving as a replacement for the connectivity package.
Today, Tesla is reportedly working on a new option that involves using ISPs' Wi-Fi networks. Analytics_ETHa Twitter user, successfully activated the new option in his vehicle:
"New #Tesla feature coming soon: free access to public hotspots from, AT&T, Comcast, Orange, and more! Since late last year, there have been clues in the firmware that @Tesla was looking for to support "public hotspots". I was able to enable this feature and confirm that it works!"
He went on to provide more information about the feature in the following tweets: "First, for this to work, Tesla must activate the feature on your car. Once activated, your car generates a private key based on the TPM to use on these Wi-Fi networks.
After that, you just need to select the relevant network and the car will negotiate a connection! On the backend, the firmware references the issuing CA of Tesla's product partners for authentication purposes, indicating that this feature is from an upcoming partnership.
According to Analytic, the current list of supported access point names includes XFINITY, xfinitywifi, CableWiFi, attwifi, att-wifi, AT&T Passpoint, ChinaUnicom, CMCC, ChinaNet, KPN, KPN Fon, Ziggo, Telekom, Telekom_FON, UPC Wi-Free, Upc, UPC WifiSpots, Orange, Orange_FunSpot, SFR, SFR WiFi, SFR WiFi FON, SFR WiFi Mobile and Telia wifi1x – all several popular providers in North America, Europe and Asia.
Although these networks are often open to the public, to connect to them, the customer must generally be subscribed to the ISP concerned.
Tesla partners directly with Internet Service Providers, allowing you to seamlessly connect to these networks without having to provide credentials.
These networks can be finicky at times, but Tesla will have the option to whitelist or blacklist individual networks depending on your car's location and whether the vehicle was able to connect successfully.
For owners without Premium connectivity, this will give them more places to stream music and video while potentially waiting, charging or waiting for someone near shopping areas.
Even more owners subscribing to Premium connectivity, this will give everyone more places to download software updates, which are usually limited to Wi-Fi.
According to Elon, Superchargers will also receive Wi-Fi connectivity in the future, giving owners even greater access.
The ability to connect to ISP-provided Wi-Fi hotspots will be a very welcome addition for Tesla vehicles as they receive even more internet-based entertainment features.